*LIST* Top Food Trends Of The Year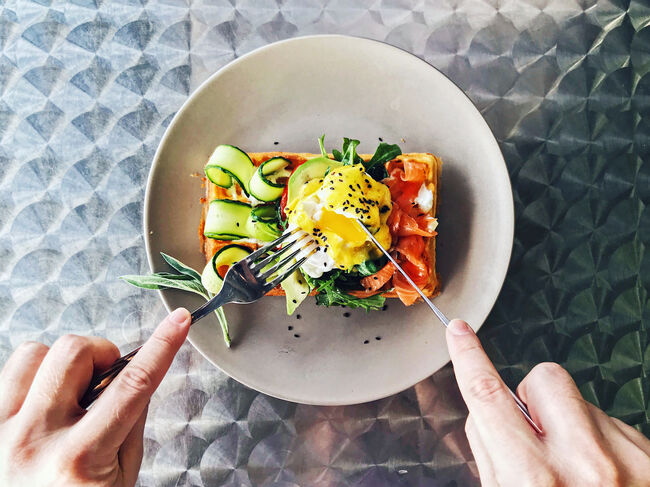 GrubHub just released their annual "Year In Food" report, analyzing millions of orders placed by more than 16 million diners on its platform
The been burrito was the most popular food of the year, increasing in popularity 276% from last year
As for veggies, cauliflower seems to have gained in popularity, with both a cauliflower rice bowl and buffalo cauliflower making the Top Ten
When asked why most people ordered food in, the top answer was because they didn't feel like cooking
Every year there seems to be certain foods that you can't escape from. Remember when every dish seemed to feature kale? Well, this year there were plenty of trendy foods that folks just couldn't get enough of, and thanks to GrubHub we now know what they are.
The site just released their annual "Year In Food" report, analyzing millions of orders placed by more than 16-million diners on its platform. They also surveyed consumers across the country on their ordering tastes and eating habits.
So, what was everyone eating in 2018? Bean burritos, which tops the Food of the Year list, with a 276% increase in popularity over 2017. Also rising in popularity is poke, up 205% from last year. As for veggies, cauliflower seems to have gained in popularity, with both a cauliflower rice bowl and buffalo cauliflower making the Top Ten.
Top Ten Foods of the Year
Bean burrito (276% more popular)
Poke (205% more popular)
Chicken slider (189% more popular)
Baby back pork rib (165% more popular)
Chicken burrito (164% more popular)
Chicken sandwich (160% more popular)
Cauliflower rice bowl (155% more popular)
Chicken and waffle slider (145% more popular)
Parmesan chicken (139% more popular)
Buffalo cauliflower (124% more popular)
Other tidbits from the report:
Avocado Toast is losing its popularity, not even making it into the Top Ten.
Peanut butter acai bowl is the top breakfast food, up 350% from last year.
Stuffed jalapenos are the top late night snack, up 169% from 2017.
Brownies are the top dessert of 2018, up 413% from last year.
The survey also reveals the top reasons people order food in, and no surprise, number one is that they didn't feel like cooking (43%).

Other reasons include:
Satisfy a craving (30%)
Saving time from cooking/cleaning (28%)
At home game night/movie night (25%)
Family night dinner (24%)
Source: BizJournals

Beth & Friends
Want to know more about Beth & Friends? Get their official bio, social pages & articles on 99.9 KEZ!
Read more