Kids helping kids! More Cheermobile news ..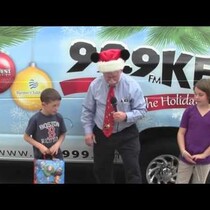 Posted December 19th, 2013 @ 8:06pm
Meet Cayle & Rylie, a couple of great kids, helping collect toys for kids in the hospital. Also a big thank you to our friends at Ganem Jewelers in Ahwatukee & Scottsdale for their generous donation once again this year!
STILL TIME FOR A TOY PICKUP! DETAILS, USE KEYWORD "CHEER"!